Blochs Early Symphony in C sharp minor
Malcolm Miller enjoys Dalia Atlas and the RPO in a London revival of Bloch's C sharp minor Symphony
The early and seldom performed Symphony in C sharp minor by Ernest Bloch formed a fascinating and stirring climax to a superb concert on 26 June by the RPO under the baton of Dalia Atlas, that also featured Hagai Shaham as soloist in Mendelssohn's Violin Concerto. The revival of Bloch's symphony, given to an enthusiastic audience to London's Cadogan Hall as part of the RPO's 60th Anniversary Season, was the brainchild of the energetic advocate and champion of Bloch's lesser known works, the Israeli conductor Dalia Atlas, whose recordings, for ASV and Naxos, have brought to light many of unfamiliar masterpieces.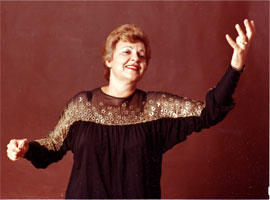 Dalia Atlas has made a distinguished international career as a conductor of a wide repertoire and her inspirited approach was evident from the start in Schubert's 'Rosamunde' Overture, impelled with just the right tempi, eliciting rich warm string sonorities and chirpy woodwind articulation that blossomed in the delicate exchanges, framed by strident orchestral tuttis. In the Mendelssohn concerto, composed just two years before Schubert's overture was 'discovered' in Vienna in 1847 by Sullivan (an interesting synchronicity), Shaham displayed easeful virtuosity and characterful artistry, his seriousness of purpose and energy leading to exciting playing all round. With his breathtaking speeds it was fortunate that there was excellent communication between conductor and soloist at the crucial structural junctures such as the end of the cadenza. In the first movement Shaham infused both the main themes and the transitions with expressive intensity and urgency. His tone glowed meltingly in the first movement, especially the high flying second subject that seems to vanish into the air, and he projected the helterskelter passagework with crystalline lucidly. Shaham above all succeeded in sustaining interest by shading each phrase and gesture through supple modulations of colour and intensity, as in the cadenza, which dissolved beautifully into the orchestral fabric. There was a more relaxed mood for the eloquent slow movement, which showed Shaham's noble lyricism to great effect, with its chamber music like dialogues with the orchestra, notably cellos, while the transition to the finale was imbued with almost cantorial fervour. The witty scampering finale theme had a true Mendelssohnian delicacy. Here his nonchalant wit and dazzling dexterity propelled held the audience in rapt attention, the RPO just about keeping up with the scherzoesque speed of his violinistic tour de force; it was a great finish.
In the second half of the programme, with the RPO in fine fettle, and a capacity audience ready to enjoy once more the sumptuous acoustic of Cadogan Hall and buzzing with curiosity about the Bloch symphony, Dalia Atlas delivered a performance of the work which was as exciting and dazzling as anyone might imagine. While Ernest Bloch (1880-1959) is best known for his Sacred Service (Avodat Hakodesh), one of the first major Jewish liturgical choral orchestral works of the repertoire, and Symphonic Poem Schelemo for cello and orchestra, his oeuvre extends far beyond this. It encompasses both a substantial output of 'Jewish works' and also many different genres including opera, songs, string quartets, concertos and perhaps the least familiar, symphonies, the largest of which is the Israel Symphony (1912-6), a centrepiece of the 'Jewish Cycle'. That Bloch also completed a Trombone Symphony and Symphony in E flat in the early 1950s, and an Symphony in C sharp minor, composed between 1901-3 in Munich, is less well known, particularly in Britain, where the last recorded performance of the early symphony was over fifty years ago!
The C sharp minor Symphony was one of the first works to attract attention from leading commentators. It is a work of youthful bombast, in four movements which originally had subtitles reflecting the autobiographical self discoveries of Berlioz or Mahler which evolve through struggle self doubt to faith happiness. Bloch had studied in his native Switzerland as well as Belgium and Germany with, amongst other teachers, Eugene Ysaye; many of his student works are still unpublished. Yet, as the Bloch scholar Alex Knapp explained in his erudite programme notes, the Symphony in C sharp, composed under the guidance of Max von Schillings in Munich, was a stirring success when it eventually received its premiere in Geneva in 1908 conducted by Stavenhagen, and was published in 1925. Although it is performed sporadically, the last recorded performance in the UK was over fifty years ago, and so a chance to hear this remarkable work was a rare and exciting treat. In this performance, one was constantly amazed at the incredible imagination of this young twenty one year old, whose language drew on the late Romantic influences of his time yet also looked strongly ahead to the first half of the 20th century. Bloch himself had conducted two movements for a Festival of Swiss and German new music in Basle in 1903, coolly received by the organisers yet admired by critics such as Robert Godet, who became a friend. Yet when Godet's credentials as a supporter of Houston Stewart Chamberlain's racialist theories became apparent, Bloch cut off friendly relations, by now more fully engaged in his search for a universalistic, yet still keenly Jewish, musical identity. Traces of Bloch's 'Jewish' style as well as his French, German and American (Hollywood) styles emerge in this early work, which shows an original absorption of influences without yet having achieved quite an individualised, mature voice. We hear traces of Wagner, Strauss, Bruckner and Mahler; there are some wonderful high textural doublings and pedal points, canonic interplay and galvanic brass climaxes. Thus it is a compelling if unusual, patchwork, piece, which essays all sorts of effects, infused with passion, vigour, orchestral acrobatics. The harmony is chromatic, featuring Brucknerian enriched dominants with full brass at climaxes. Indeed in general the fortissimo level was too pervasive; one savoured the lighter, lyrical moments. Some of these had a Mahlerian transparency of texture, the rural depictions, as well as Mahler's angst and the rural. At times the textures seem too simplistic, the canons are only two part and often do not lead anywhere; climaxes sometimes hang onto dissonant non resolution for too long and eventually dissolve into the texture; there are quirky modulations around the chromatic cycle, though these sometimes turn out to be strokes of genius, chords which lead into unexpected regions, especially in the coda to the finale.
The four movement design is straightforward, sonata form, slow aria form, scherzo and trio and fugal finale, inspired perhaps by Bruckner if not earlier Romantic models. The slow introduction is magical, both harmonically and with the solo string motives and phrases that emerge from the main texture. The powerful first subject has an urgent, volatile nature contrasted by a conventionally more relaxed second subject, yet the unconventional elements are the chromatic transitions, which are excitingly Wagnerian, fuelled by chromatic horn gestures and leading to galvanic dissonant climaxes. After the first main climax the sudden plunge to a pianissimo rumble conjures up a post-Tristan soundscape, tremolandos in the bass with short instrumental theme soaring above. Though the programmatic sketch of the movement is 'Doubts, Struggles, Hopes (The Tragedy of Life)' Bloch's rays of sunlight here are short-lived: a dotted motif in an ominous variant of the main theme transforms all too briefly into a luminous major theme for violin solo only to dissolve again into the ominous angst. Tonal resolution is effectively held back until the final climax, when after a sustained dissonance the arrival is accompanied by a fading timpani beat which heralds a sinewy chromatic coda. Even the final chord is enveloped in sinewy chromaticism, akin to Mahler.
Remarkably Bloch had not yet heard any of Mahler's works, though there are clear echoes throughout, not least the slow movement, in which the motives are transformed into a mood of hope, has a depth and breadth of emotion which the RPO conveyed with beautiful expression. Similarly the Trio of the Scherzo has a Mahleresque grace and naturalness, depicting a love a nature through woodwind cameos, and transparent counterpoints, a major contrast to the heavy and thick orchestration of other parts such as the Scherzo's blaring brass fanfares that recall Wagner's Die Walkure. The finale is in two parts ('Will, Happiness'), a powerful fugue and chordal coda, thus reminiscent, perhaps, of Bruckner. The fugue subject is very unusual, a rising fifth and leap down an octave an a half to the third. It is both funny and serious in its Bachian development, which looks ahead to Blochs's neo-classical works of the 1940s and 50s, such as the two Concerti Grossi. Introduced by strings and then horn, the subject transfigures into a jaunty counter theme, then resumes with strettos towards a climax, leading to the organ like coda. Here there are cyclic reminiscences of earlier themes, and some rather odd sequential modulations, growing towards the concluding major mode peroration.
Throughout Dalia Atlas conducted the RPO with panache, with direction and focus, sustained the momentum, projected the piece with élan, yet also holding onto many magical moments.
It was a memorable performance of a turn of the 20th century symphony remarkable for its youthful artistic conviction and progressive imagination as much as its historic significance. A work which Romain Rolland, after its early performances in the first quarter of the century, declared 'one of the most important creations of the modern school' clearly deserves a new recording and Dalia Atlas is clearly the one for the task. Record companies take note!
Dalia Atlas spoke about the music of Ernest Bloch at the Bloch Jubilee International Conference 'Ernest Bloch: the man and his music for the 21st Century', Fitzwilliam College, Cambridge, UK, Sunday 29 July – Wednesday 1 August 2007
Originally Posted September 18, 2009