Ernest Bloch: the man and his music for the 21st Century
Bloch Jubilee International Conference
Fitzwilliam College Cambridge University
Sunday 29 July – Tuesday 31 July 2007
Key Bloch scholars from around the world presented papers on many aspects of the man and his music. The number of Bloch family members who attended, gave the conference special significance. A chamber music recital was held on the first evening, a banquet on the second, and an entertainment on the third evening. The conference included punting on the River Cam and a visit to the famous archive of the Cairo Geniza, housed at Cambridge University Library.
The Conference was devised and presented by the Ernest Bloch Jubilee Committee of the
Jewish Music Institute and supported by the Nordev Trust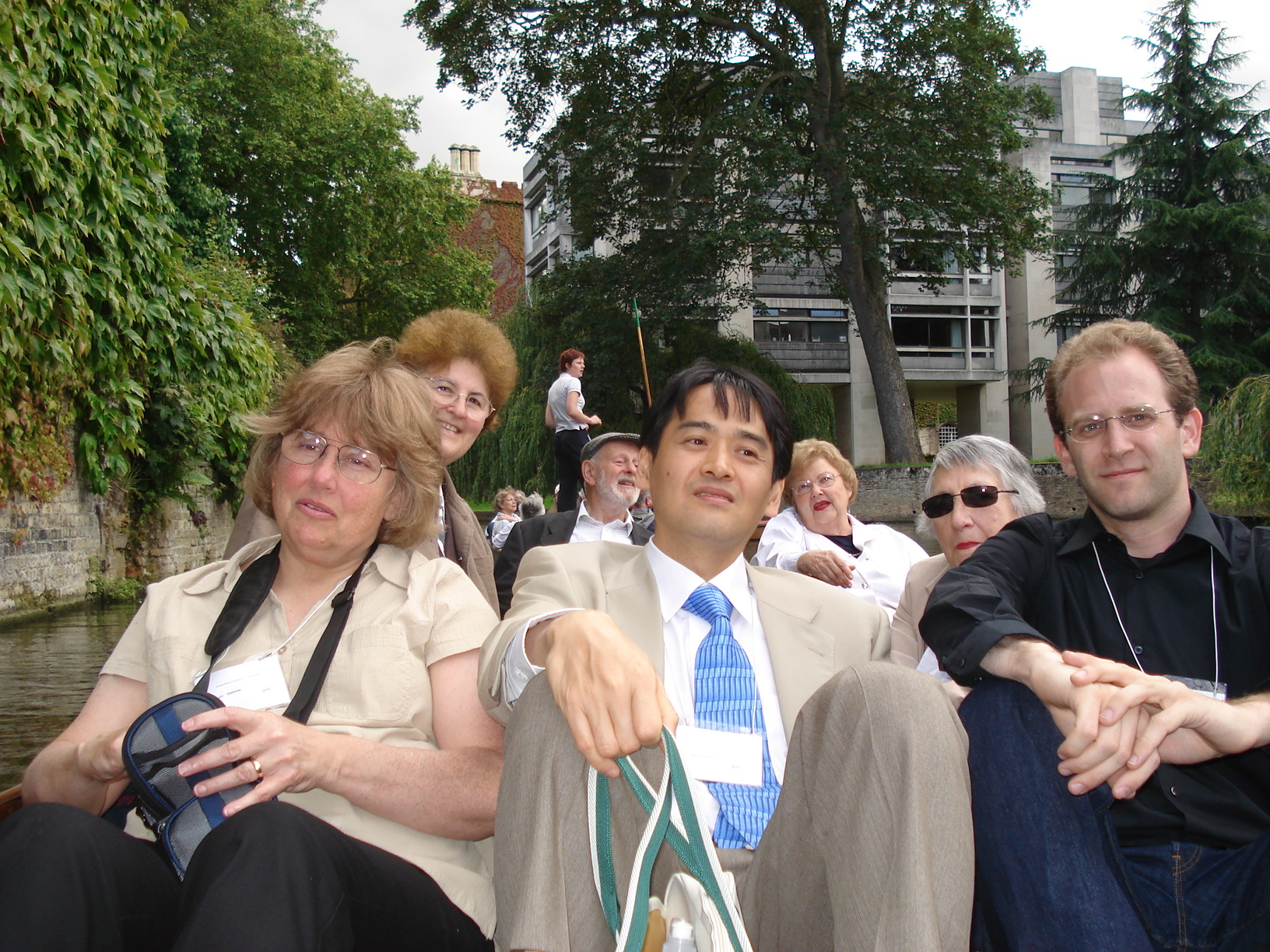 Left to right: unidentified, Geraldine Auerbach (London), Norman Solomon (Oxford), Akinori Itoh (Tokyo), Dalia Atlas (Tel Aviv/Haifa), Betty Collick (London), Oliver Margulies (Geneva)
Malcolm Miller's Conference Review
Timetable of conference
Keynote Speakers:
Philip Bohlman (Chicago)
Klára Móricz (Amherst, Massachusetts)
Invited Speakers included the following:
Dalia Atlas (Haifa and Tel-Aviv)
Sylvain Frémaux (Oregon)
Jehoash Hirshberg (Jerusalem)
Helen Johnston Kintner (Oregon)
Alexander Knapp (London)
Malcolm Miller (London)
Zecharia Plavin (Tel-Aviv)
David Schiller (Athens, Georgia, USA)
Walter Simmons (New York)
Jonathan Sternberg (Philadelphia)
Peter Tregear (Melbourne)
Joella Werlin (Portland)
Topics included
re-assessments of Bloch in relation to:
His status in the 21st century
His orchestral works
Performing editions of his student works
His reception in Israel, and his influence upon Israeli art music
Oral histories of the Bloch family, based upon field work and personal experience
Jewish elements in selected works
Chinese elements in selected works
The Sacred Service
Pedagogical materials
Perspectives on Wagner
Issues of identity
Organising Committee:
Geraldine Auerbach MBE, Simon Campion, Betty Collick, Dr Ruth Davis, Dr Alexander Knapp, Dr Malcolm Miller, Dr Ruth Rosenfelder, David Solomon, Rabbi Dr Norman Solomon
Administrator: J Audrey Ellison
Malcolm Miller writes about the Bloch Conference, 2007
An exciting three-day conference about Ernest Bloch: The Man and His Music for the 21st Century organised in July 2007 by Alex Knapp and JMI brought together leading scholars, performers and members of the Bloch family for a very special experience. The series of academic papers, discussions, reminiscences and performances in the sunny, herbaceous environs of Fitzwilliam College, Cambridge, marked a key stage in the preparations for an International Festival in 2009 to mark 50 years since the composer's death. There were many fresh insights and new perspectives on the significance of the Swiss-American Jewish composer which made this a riveting, groundbreaking event.
Two absorbing keynote papers explored the tensions within Bloch's musical personality. Philip Bohlman, Professor at Chicago University, (pictured below right) compared the three epic works, the 'Israel' Symphony, 'America' and 'Helvetia', finding a common search for utopian universalism tempered by an awareness of the dystopia of being an outsider. For the Swiss, Bloch was an émigré, for the Americans he was a Jewish composer and for the Jewish public he was too assimilated: he himself had ambivalent attitudes towards the fledgling State of Israel, where his Sacred Service was premiered in 1940; like Mahler he sensed he belonged to a different time and place.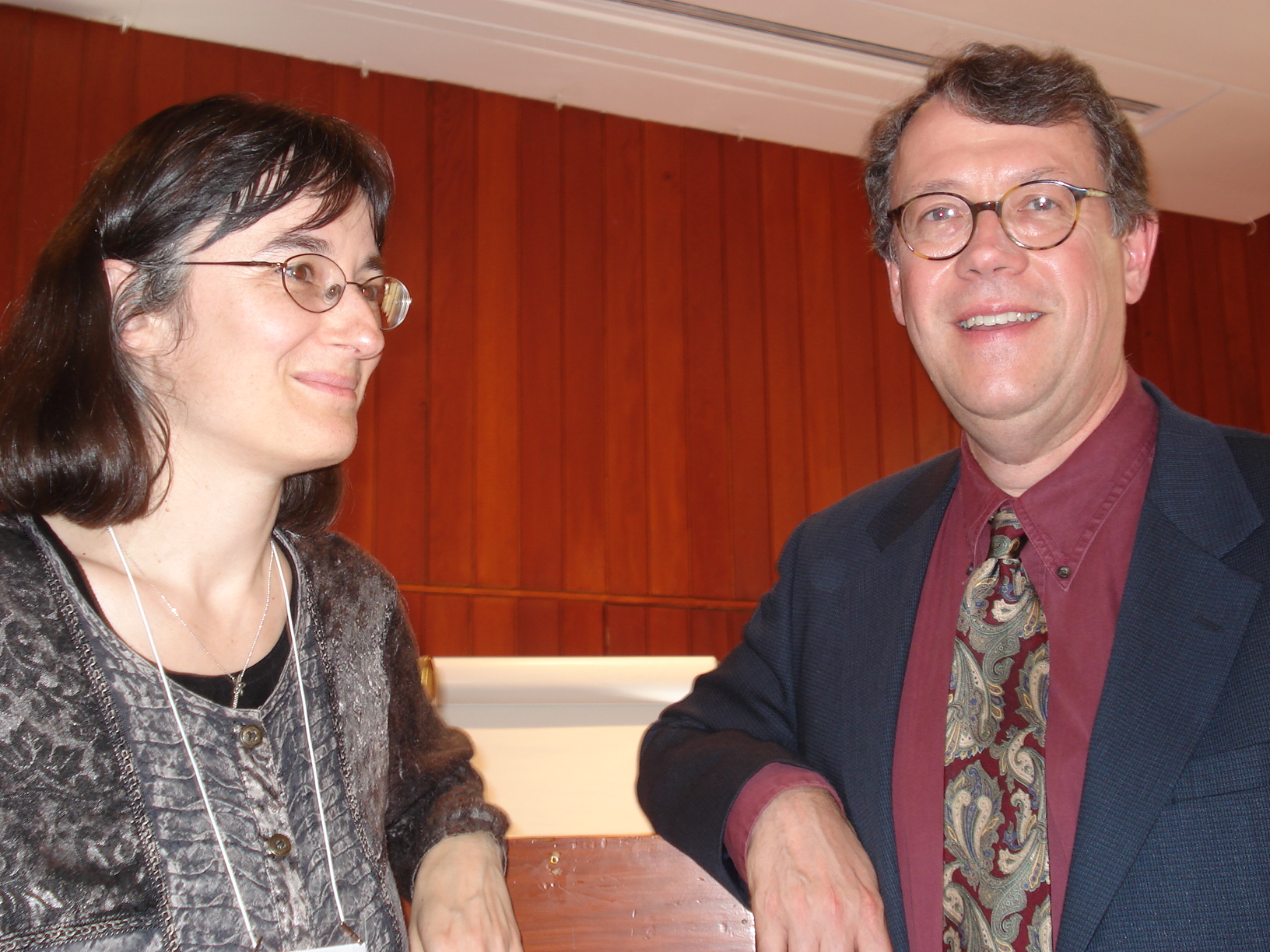 Also a keynote speaker, Klara Moricz, Professor at Amherst College, Mass., highlighted the shift from a 19th century ideal of genius to the 20th century notion of the artist as prophet. Through detailed exploration of Bloch's correspondence, she showed how that aesthetic shift was reflected by the composer's own self-perception, modelled on the images of Beethoven and Wagner, yet filtered through 20th century ideologies of determinism and racial theory. As a Jewish composer of Jewish works Bloch was interested in the 'Jewish soul' and as Alex Knapp showed, this permeated his 'Jewish cycle', works which draw unconsciously on many traditional motifs.
We heard a selection of the Jewish works, the famous 'Nigun' and From Jewish Life, played with passionate intensity by the Latvian-American cellist Yosif Feigelson, who also performed some rarities by the Polish-Soviet Mieczyslaw Weinberg and Solomon Senderey, all accompanied by the present writer.
The concert began with Miriam Brickman's stirring rendition of Poems to the Sea inspired by Walt Whitman, and the Poemes D'Automne, sung by Andrea Rivers-Baron partnered by the noted Israeli pianist Zecharia Plavin. The ravishing impressionistic songs of this cycle are settings of poems by Beatrix Rodes, with whom Bloch had an ardent affair during the early years of his long-lasting marriage to Marguerite. The storms they weathered, the inspiration of nature and the sea, especially the house on Agate Beach, Oregon where the Blochs settled in 1941, as well as his enigmatic, magnetic personality were recalled by his grandchildren including Ernest Bloch II, in a fascinating oral history session.
One of the highlights of the conference, this family reunion brought out many hitherto unexplored aspects of Bloch the man and artist, many of which are part of the new Bloch legacy project underway in Portland, Oregon (www.ernestblochlegacy.org).
Amongst the perceptions shared at the conference was that of an essential Bloch style which transcended the French, American or Jewish idioms in which he worked. This was borne out by several papers on Bloch reception around the world, for instance in Japan - where an enthusiast has built one of the few Bloch websites, and in Israel, where two leading musicologists outlined the specific influences of Bloch on recent Israeli composers including Ben-Haim and others.
Dalia Atlas, who in June conducted a rare London revival of Bloch's early C sharp minor symphony with the RPO at Cadogan Hall, has released five CDs of familiar and lesser known Bloch works (ASV and Naxos), and here spoke about the meaning behind the notes, the unifying characteristic of Bloch's voice. It is a voice that still commands and demands attention, for fifty years after his death, there are still few monographs on the composer, while only a few works receive performance, such as Schelomo and the Sacred Service.
As David Schiller (University of Georgia) argued brilliantly, the Sacred Service, while overtly the first Jewish liturgical cantata, was far more universalistic in intent than appears, similar to Bernstein's Mass and ecumenical masses such as Sulamit Ran's Ani Maamin. We also heard about Bloch's other great dramatic chef d'oeuvre, his only opera, Macbeth, premiered at the Opera Comique in Paris on 10 November 1910.
In a colourful performance and recording history tracing the 1938 Italian revival and several recent productions, Stanley Henig, director of the Historic Masters record company, concluded that a UK stage premiere would be an ideal aim for the Bloch 2009 festival (an aim which is to be realised by UCL Opera), and would also be the opera's centenary. Henig had attended the only UK concert version of the work mounted at the RFH in 1975, a production by Denny Dayviss, inspired by no less a Bloch devotee than the illustrious writer and editor Denby Richards, a champion of neglected operatic masterpieces.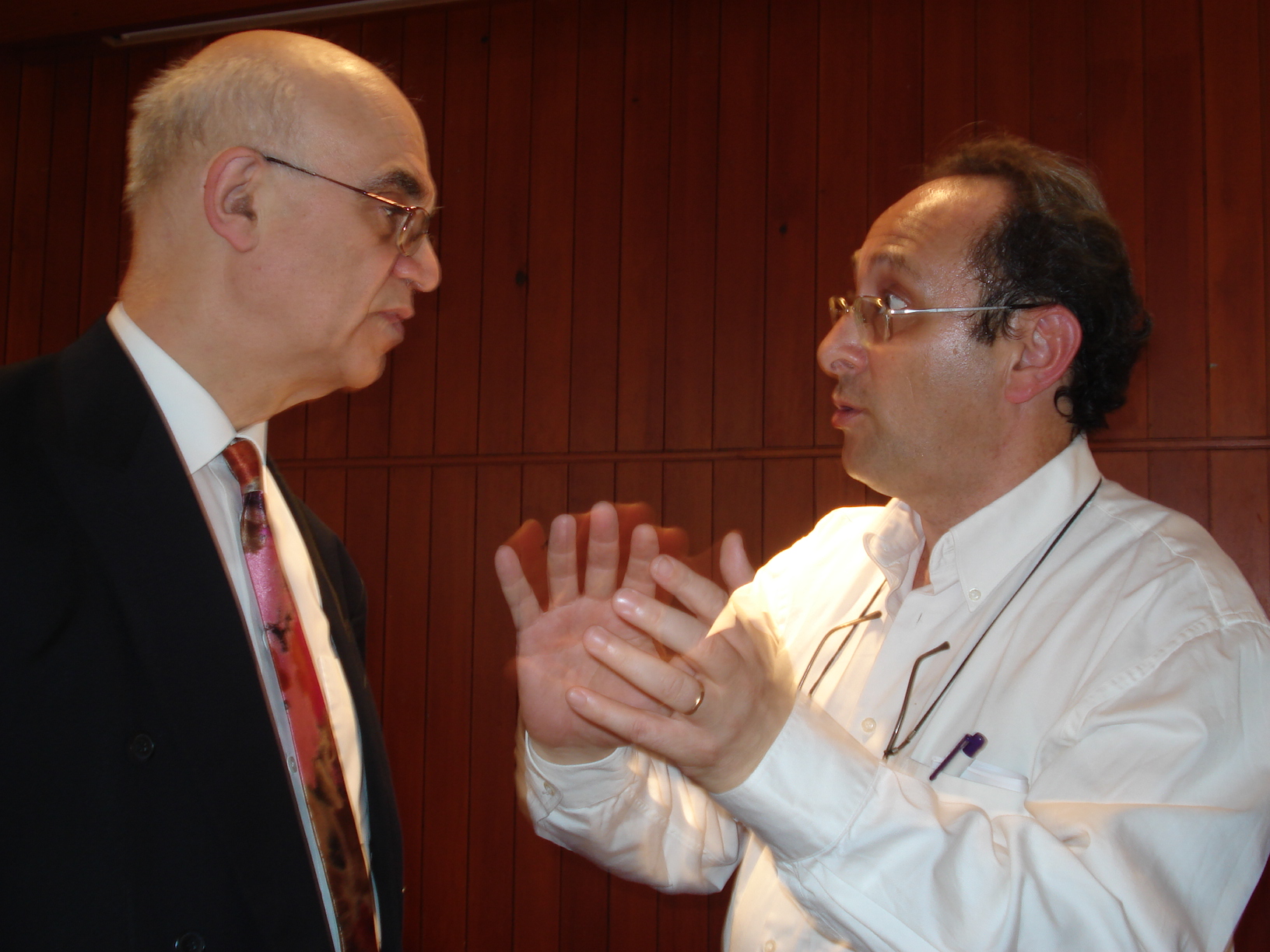 Much credit is due to Alexander Knapp (pictured left above with Israeli pianist Zecharia Plavin) for masterminding the conference - a fitting tribute to one of the most compellingly individual and influential of 20th century composers, a visionary whose significance is yet to be fully appreciated. Malcolm Miller 2007.

More photographs of the Bloch Jubilee International Conference
Go to top