Raphael Wallfisch performs Schelomo
with the Philharmonia
17 October 2019, Royal Festival Hall
A heart-rending performance of Bloch's Schelomo with the outstanding cellist Raphael Wallfisch was one the highlights of a superb concert by the Bach Choir at the Royal Festival Hall on 17 October 2019, with the Philharmonia under the choir's musical director David Hill. The work gained in effect in the context of the programme as a whole, which opened with the stunning world premiere of Roxana Panufnik's Four Choral Seasons, an evocative and uplifting choral cycle setting of four English poets. The second half explored the diversity of musical impressionism in two works from 1903, corresponding to Bloch's earlier works, a stunning account of Debussy's La Mer replete with translucent textures and effects, and Delius's less often heard, no less masterly, solo-choral-orchestral Sea Drift with baritone Duncan Rock.
From his very first high note in Bloch's Schelomo, Raphael Wallfisch evoked an ambience of biblical splendour with noble eloquence and expression. One of Bloch's most popular works, Schelomo was composed in 1916 in the midst of WWI, the last of his pioneering 'Jewish cycle', its concerto-like symphonic structure built almost entirely on a memorable three-note psalm tone motif. Wallfisch recently recorded the work with the BBC National Orchestra of Wales conducted by his son Benjamin Wallfisch (Nimbus NI5913), and here produced a riveting interpretation, characterising the legendary King Solomon in a variety of moods, by turns passionate, philosophical, poetic, and pleading. The effervescent cantorial fervour of lyrical outbursts, often in dialogue with the orchestra, the brooding, meditative interludes, such as the conclusion's low, rasping sustained pitches doubled by contrabassoon, and the focused pianissimo in the cello's high registers, all evoked an inner intensity redolent of what Bloch described as '…the complex, glowing, agitated soul that I feel vibrating through the Bible'. Throughout, the Philharmonia Orchestra under David Hill supported and interacted with the soloist with glowing colours, as much in the hushed, mysterious timbral tapestries as during the galvanic climaxes, at times almost too unvaryingly opulent. Overall it was a reading of raw energy and exciting exoticism, within a concert that was involving and at times enthralling.
Malcolm Miller
*A longer version of the review appears in Musical Opinion Quarterly, Vol. 143, Issue 1522, (Jan-Mar 2020): 52-53.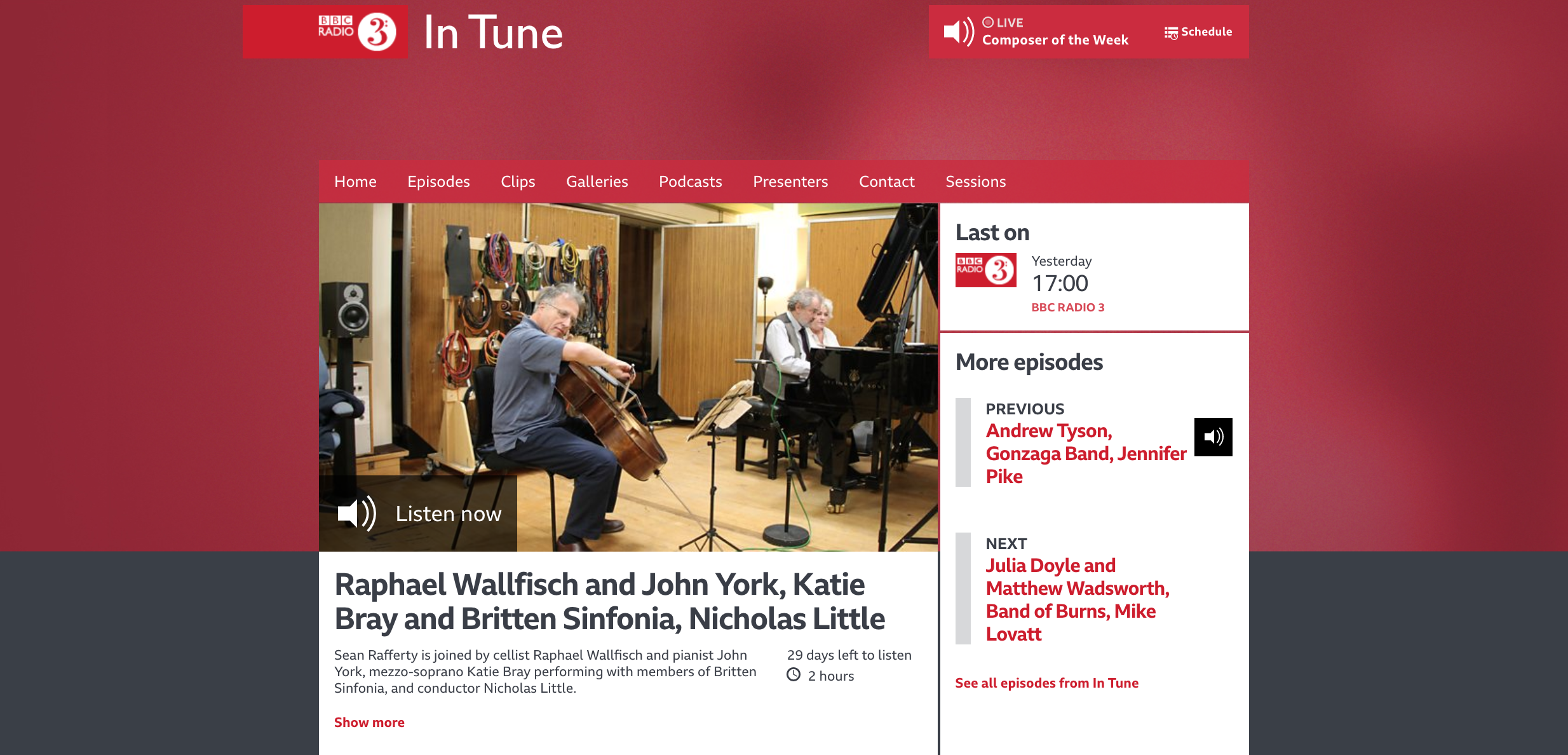 Listen to Raphael Wallfisch's appearance on BBC Radio 3 In Tune on Monday, where he performs Bloch's Suite for Cello and Piano (arranged from Suite for Viola and Piano) mov. 2 - listen online here www.bbc.co.uk from 0:40:20